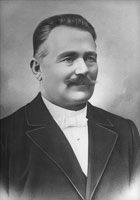 1886: Origins of the Company
Farmer Johan Nurminen (1851–1914) moves to the town of Rauma. He starts to do business in the timber trade and opens a general store selling chandlery goods and imported products.

Sign painter Wigell is asked to paint the company's name on the store window. He displays initiative by shortening the name to John Nurminen to save space.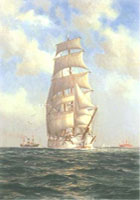 1891-1920: Beginning of the Shipping Business and Establishment of a Forwarding Department
Beginning of the Shipping Business

The company's first own ship, the three-masted schooner ship Uljas, is built in Rauma in 1891. Shipping operations expand rapidly, and by 1910 no fewer than 22 vessels sail under the JN flag, carrying their cargoes to the four corners of the world.

Starting the Forwarding Department

In 1913 Johan hands over the company to his son John. John founds a forwarding department as part of his trading house, and during the First World War it grows into Finland's biggest forwarding company.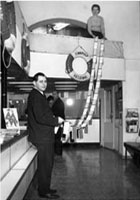 1930s: Shareholder in Kaleva Travel
John Nurminen adds tourism to its operations by becoming a shareholder in Travel Agency Kaleva Limited, founded in 1935. Kaleva becomes a subsidiary of John Nurminen in 1954.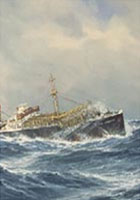 1950s: The Golden Age of Shipping
John's son Matti Nurminen grabs the helm in 1946 and turns his full attention to the forwarding sector and shipping.

The company enters the steamship era, and its shipping operations reach their height at the end of the 1950s: eight vessels, or a total of 40,000 DWT, are sailing at full steam under the JN flag.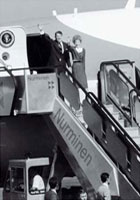 1960s: Winding Down Shipping Operations and Starting Forwarding and Air-Freight Operations
Winding Down Shipping Operations

After the Suez Crisis, John Nurminen's Board decides to give up shipping operations. The last vessels are sold in 1967.

Starting International Forwarding and Air-Freight Operations

The company's focus shifts to international forwarding and transport. John Nurminen's first warehouse building is built at Helsinki's West Harbour, and in 1964 Nurminen Air begins business at Helsinki Airport, becoming Finland's first air-freight forwarder. The 1960s also see the beginning of road transports to the Soviet Union and the first transoceanic liner agency operations.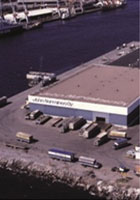 1970s: Growth and Development
A fourth-generation Nurminen – Juha Nurminen – is appointed Managing Director in 1979.

The company expands strongly. The building of a customs terminal network is sped up by the new liner agencies and the breakthrough in road transport. Several new regional offices are also opened inland.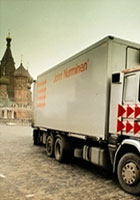 1980s: Active in International Trade
John Nurminen widens its operations in international trade. Its lines of business include export and import forwarding, international transport, Soviet road transport, terminal and warehouse services, ground handling services for airlines, liner agency, port agency, forwarding for fairs and exhibitions and project transports.
2001: Nurminen Maritime Ltd establishment
Nurminen Maritime Lativa Ltd is opened in Riga, as part of Nurminen Logistics group. The company is working successfully in the fields of multimodal transport and ship agency till now.
Also in 2001,
in Tallinn
starts its activity
the company
"Nurminen Maritime Estonia" AS,
and in February
2004
was decided to open a
Lithuanian company
"Nurminen Maritime" UAB,
which, just as
"
Nurminen
Maritime
Latvia
," are
part of the
companies
of
the
Finnish
Nurminen
Logistics
group.